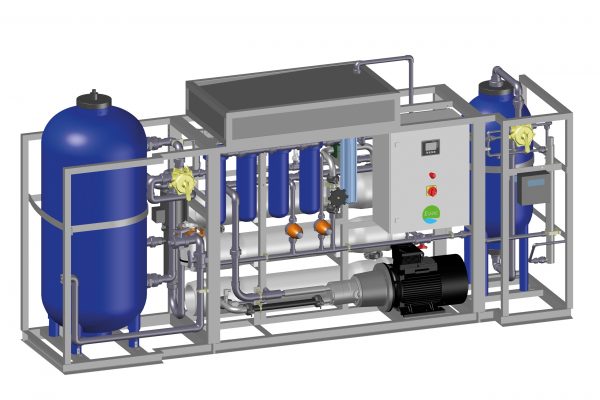 Evac Quality: Now in a Smaller Package
Evac fresh water generation systems serve the largest cruise vessels afloat. Now a new desalination plant using reverse osmosis brings the same quality to smaller passenger and merchant vessels, naval ships, and offshore vessels and platforms.
Evac has long been known as a leader in reverse osmosis (RO) desalination plants for the largest cruise ships that sail the world's seas. Systems for those vessels are built to process 200 to 1,100 cubic meters of water per day.
"We received lots of customer requests to provide Evac's complete cleantech solution for offshore and smaller vessels," says Ljubo Jurisevic, Managing Director of Evac Germany and President of Evac Global Cruise. "The Evac brand has built a lot of trust worldwide, and now with the ROSYS M system we're applying the same trust to freshwater generation systems for the smaller market segment."
M is for mid-sized
The "M" in ROSYS M means mid-sized. It's a system created to serve customer demand in the growing smaller-sized market.
Reverse osmosis entails a multiple-step process taking in seawater, pressurizing it, filtering out solids and suspended particles, and putting it under pressure again to push it through a membrane. The resulting fresh water is treated with chlorine and undergoes pH checks to meet World Health Organization standards.
Thanks to ROSYS M, the Evac product range now includes plants with a daily freshwater generation capacity of 30, 60, 90, or 120 cubic meters per 24-hour period. These capacities are ideal for offshore platforms, vessels, and yachts.
M is for modular
The ROSYS M is also modular, meaning that a client chooses what he needs to meet his target. "Our system has six to seven modules which can be selected and combined," says Georg Schumacher, Evac Product manager. "If a client wants to forgo the potable module then he can save on the physical footprint."
ROSYS M is also good for retrofits. "A client may already have seawater supply and pretreatment," says Schumacher. "So he can just add the desired ROSYS M modules to his system."
One of the modular options available for the 90- and 120m3 versions of the ROSYS M range is a system which recovers energy when pressurizing water. "At those levels you can cut operational costs by almost 50 percent," says Schumacher. This energy efficiency in the RO desalination units also is leading to shorter amortization times.
No compromises
Schumacher emphasizes that the ROSYS M is built for daily operations. "Evac systems built for cruise vessels have to work all the time, and we have transported those same high standards to our smaller range systems."
The ROSYS M system's reliability is thanks to its good design, as well as the selection of materials. It's common for competitive systems to use 316L or even lower grade stainless steels, but these are only partly seawater resistant. "With those grades you get pit corrosion after a couple of years," says Schumacher.
ROSYS M can also handle a full range of temperatures and operate from five to 35 degrees Celsius.
The no-compromise approach to quality means that maintenance is reduced to a minimum. "And if you do need maintenance, to say change the cartridge filters," says Schumacher, "our system gives you easy access to anywhere you'd need to get."
An 'amazing experience'
The ROSYS M's operation display shows all the operation values in the switchboard, which uses the highest quality Siemens industrial standard components. This translates not only to quality, but to the availability of spare parts almost anywhere in the world.
"Take modular design, good materials selection, use of world renowned suppliers, and the Evac heritage of making big, reliable systems," says Schumacher, "and all this makes the ROSYS M a pretty amazing experience."