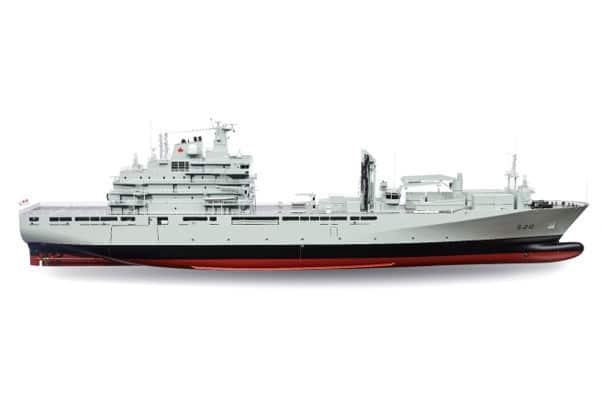 Evac's hull corrosion protection system for new Royal Canadian Navy vessel
The first of two Joint Support Ships (JSS) to be built for the Royal Canadian Navy (RCN) will be installed with an Evac impressed current cathodic protection (ICCP) system to safeguard its hull against corrosion.
The Protecteur-class vessel under construction at the Seaspan's Vancouver Shipyards will be the largest naval ship by length ever built in Canada when it is completed in 2023.  At 174 meters in length, it has a design displacement of nearly 20,000 tonnes.
 
As the ship has to be capable of reaching the Nanisvik Naval Facility on Baffin Island in Canada's Arctic, it is being installed with an ice-class ICCP system.
 
The forward system will consist of an arrangement of specially strengthened ice-breaker anodes and reference electrodes connected to a thyristor control panel. The aft arrangement will be similarly designed but feature a Quantum master control panel enabling the whole system to be monitored and controlled from the stern. The master control panel automatically logs data concerning the performance of the system which can be uploaded for analysis.
 
The elliptical anodes are made with extra thickness housings and doubler plates to match the hull thickness of ice going vessels. The current emitting face of the anode is recessed within the housing and made with a thicker coating of titanium which is stronger in the event of impact.
 
"We have considerable experience in producing ice-class ICCP systems for both naval and commercial vessels. Seawater in polar regions has a higher 'resistivity' than water in more temperate seas and therefore our ICCP systems operate at 50 volts to provide a higher 'driving force' ensuring that the hull receives the optimum level of corrosion protection at all times", said Andrew Gamble who supervised the project at Cathelco, an Evac Group company.
 
The order was won by Jastram Technologies, Evac's agent in Canada, who have headquarters in Vancouver and offices in St Catharines (Ontario) and Dartmouth (Nova Scotia).