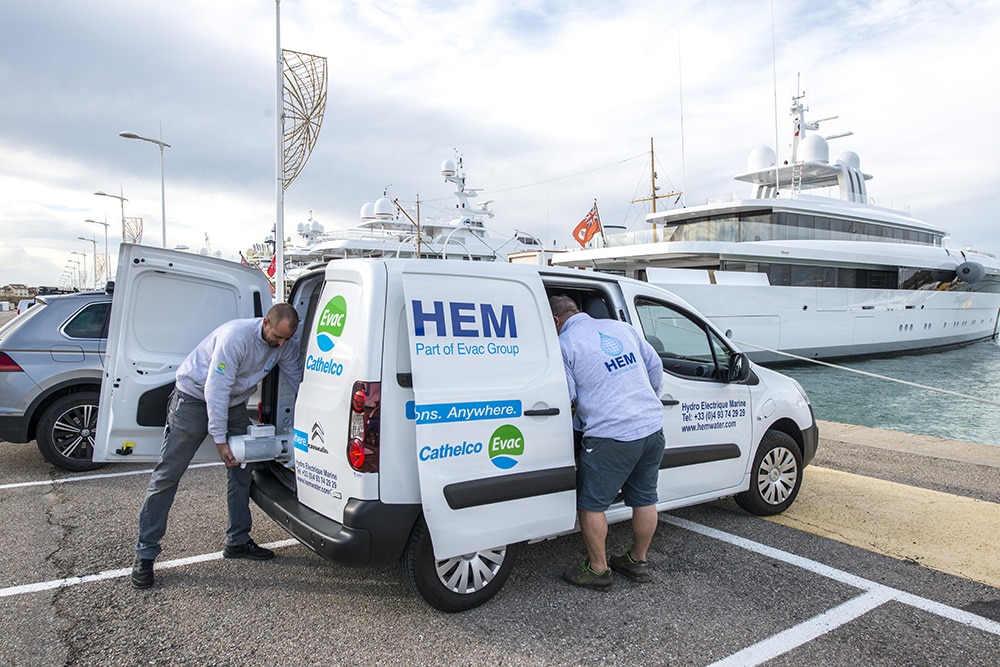 HEM – celebrating 40 years of fresh water with a view to a sustainable future
Over a period of 40 years, Hydro Electrique Marine (HEM), has developed a name for excellence in the design and installation of water treatment systems for many of the largest superyachts in the world.
Superyachts have been installed with desalinators (watermakers) for many years, but today fresh water generation takes on a far greater significance in the light of environmental concerns. By producing their own fresh water, superyachts are less reliant on shore supplies, reducing the consumption of bottled water and helping to lower the risk of plastic pollution in our oceans.
The name HEM was once synonymous with reverse osmosis desalinators, however, the scope of its product range goes much further than this and as a member of the Evac Group continues to expand into new areas of cleantech solutions.
This year, as the company celebrates its 40th anniversary, it can proudly claim to have systems on over 70 of the 100 largest superyachts in the world. Although the business has grown enormously, it remains true to its original principles.
"We've always believed in keeping things simple and not over-engineering products because that makes things more complicated for the crew. It also means that our products are more reliable in operation and easier to service", said Jaco Conradie, Head of Evac Group Superyacht Business.
The man who made 'simplicity' his mantra was Ingemar Grip, who in December 1980 laid the foundations for the business. Ingemar, who grew up in Sweden, had all the right experience having been a yacht builder and captain in his time as well as an engineer by training. 
Grip and his business partner started manufacturing a range of reverse osmosis desalinators under the HEM brand name. Over the ensuing years, the company flourished and earned an international reputation for the quality and reliability of its products. In 2015, it was acquired by Cathelco and subsequently became part of the Evac Group in 2018.
Today, HEM employs 38 people and has a turnover of 6.5 million Euros, a far cry from its modest beginnings. During the last 5 years, turnover has increased by 35% and 13 more staff have been recruited to reinforce the production and service teams.
Set on a hillside above Antibes, its modern factory is within easy reach of Port Vauban, the largest yachting center in the Mediterranean with more than 1,000 berths making it a magnet for yachts visiting the French Riviera.
"The close contact we have with our customers because of our location in Antibes is certainly a major factor in our success. Hearing what the operators have to say, listening and implementing changes and modifications to the systems in response to this gives us an important edge", says Conradie.
With in-house design and manufacturing, HEM can provide a fast and flexible response to customer's requirements. Also, being strategically based in Antibes, near Nice airport means that engineers can easily reach yards and marinas throughout the Mediterranean.
Further afield, the company has developed strong relationships with European yacht builders in the Netherlands, Germany, Italy, Spain as well as those in the USA, Australia and South Africa.
Working closely with yacht builders
A key ingredient has been the commitment to working closely with customers, particularly in the design stages.
"Our aim is always to be involved in the decision making process at the earliest stages. That way we can explain why a particular piece of equipment is the best solution. It also means that when yachts come to Antibes, as they invariably do, we have a complete understanding of their systems and have all the technical information to hand and can arrange immediate action where required", says Conradie
In fact, service is the cornerstone of the business and the reason why customers return to them again and again. This is facilitated by a permanent stock of over 4,000 items which can be shipped without delay, ensuring maximum responsiveness.
The scope of operations now extends to the Western Mediterranean where the yachting community are served by Echo Marine, a subsidiary service hub based in Palma de Mallorca. Plans are also in progress for a sales and service center in Florida to be run in conjunction with Evac's facilities.
High quality fresh water generation for greater sustainability
HEM's range of reverse osmosis desalinators cover all requirements; from smaller yachts to the ultra-rugged duplex units for the largest craft, capable of high sustained output under continuous operation.
Once the fresh water has been produced there are numerous options for ensuring that it remains sterile, has a pleasant taste and meets the particular requirements for on-board use. These can include water softeners, chlorine treatment, active charcoal filters to improve the taste, plus silver and copper sterilization – all contained within a neat skid for easy operation and maintenance.
There are also units designed for producing demineralized water, ideal for washing down hulls without streaks or even cleaning helicopter turbines.
Energy efficient hot water systems is another area where the company has been successful in recent years. 
"At peak times, conventional hot water systems may struggle to meet the combined demands of multiple showers, galley and laundry requirements", says Conradie. "Our systems are designed to regenerate hot water more quickly and have proved popular in both newbuild and refit applications because of their versatility", he added.
Other advances have been made in the design of hydrophores, pumps that control the water pressure on board yachts, which are essential for maintaining a reliable supply.
Widening the scope of complete cleantech solutions for yachts
"Although we are probably best known for desalinators, future growth is going to come through the supply of complete water treatment packages – and they're all designed to provide numerous environmental benefits", Conradie explains.
Becoming part of the Evac Group has opened the way to the supply of advanced cleantech systems including waste water treatment systems, specifically designed for superyachts, where the clarity and purity of the output allows it to be safely discharged into the sea.
There are also vacuum toilets for yachts which reduce water consumption as well as systems which enable the hygienic collection of food waste in galleys. In addition, a range of equipment is available for crushing glass and compacting cardboard making them easier to handle and store for subsequent on-shore recycling.
One of the major threats to our oceans is the transfer of invasive species through the discharge of ballast water containing organisms which have no natural predators in the waters where they are released.
Over the last few years, HEM have become more deeply involved with the installation of Evac Evolution ballast water management system (BWMS), an important cleantech solution which ensures that organisms and pathogens are neutralized before ballast water is discharged.
Leading the way to a cleantech future
 "So, we have come a long way in 40 years thanks to the knowledge and commitment of our staff, many who have been with us for a very long time and have built strong relationships with our customers", Conradie reflects.
In the last decade, everyone has become more acutely aware of the need for protecting our oceans from effluent, reducing plastic waste, achieving greater energy efficiency and preventing the spread of invasive species.
Since their initial focus on desalinators, the scope of HEM's business has grown to encompass the supply and servicing of virtually any type of water treatment system – all designed to meet the exacting standards of the superyacht market. 
Now, as we enter a more environmentally conscious age, the company can offer a range of Evac cleantech solutions to make sustainability more than just a catchphrase.