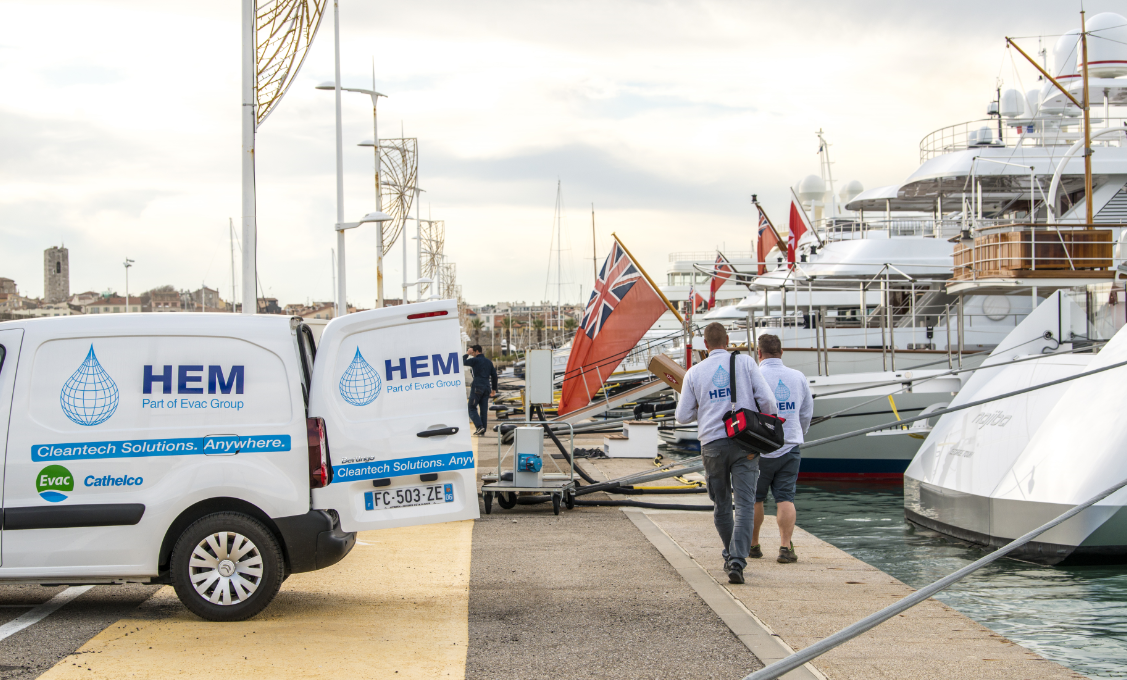 HEM equipment on seven out of ten largest superyachts launched in 2019
In 2019, HEM (Hydro Electrique Marine), part of the Evac Group, supplied equipment for seven out of ten of the largest superyachts to be launched in the world. This reflects the company's commitment to quality engineering and service in a highly demanding market sector.
HEM (Hydro Electrique Marine), part of the Evac Group since 2018, have built their reputation as Europe's leading brand for an extensive range of desalinators and freshwater treatment systems for superyachts.
In 2019, HEM supplied equipment for seven out of ten of the largest superyachts to be launched in the world. This reflects the company's commitment to quality engineering and service in a highly demanding market sector.
Superyachts have been installed with reverse osmosis desalinators for many years, but today fresh water generation and purification takes on a far greater significance in the light of environmental concerns. By producing their own fresh water superyachts are less reliant on shore water and in many instances the consumption of bottled water can be reduced, helping to lower the risk of plastic pollution in our oceans.
"It may be some time before bottled water disappears from the owner's dinner table, but we are getting an increasing number of enquiries for ways of making desalinated water more palatable and widely accessible to crew members", said Jaco Conradie, Head of Evac Group Superyacht Business.
High quality fresh water generation for German built superyacht
The largest superyacht to be supplied with equipment in 2019 was a 140 meter vessel built in a German yard. It was installed with an HEM desalinator with the capacity to produce 100 tonnes of fresh water per day.
Although the superyacht generates its own supply of potable water at sea, it will use a shore supply when in port. It is essential that the water supply is free from bacteria, and to achieve this it is treated with chlorine as it goes into the fresh water tanks. To maintain the consistent quality of the water as it circulates around system, it is monitored by a HEM ORP unit, ensuring it is always sterile and safe.
HEM have also supplied a water softener which further improves the quality of the water whilst lowering the risk of scaling in pipes associated with the hard water which is often found in superyacht marinas.
Finally, it passes through a fresh water skid where it is pre-filtered and then goes through an active charcoal filter which improves its palatability.
On a large vessel, another important consideration is the provision of water for washing down the hull and decks. HEM provided two Pure RO units which produce demineralized water which leaves no streaks or traces, saving significant time and manpower when it comes to washdowns.
"The scope of equipment on this yacht demonstrates what can be achieved in generating potable and demineralized fresh water of the highest quality for a number of purposes", said Jaco Conradie.
Eco-friendly equipment for Italian built superyacht
Another major project in 2019 was the supply of equipment for a 108 meter yacht built in Italy. It involved the installation of a HEM desalinator with the capacity to produce 80 tonnes of fresh water per day.
HEM also supplied a fresh water treatment system incorporating pre-filtration, an active charcoal filter to improve the taste of the water, plus a silver and copper ion sterilizer.
The use of silver and copper is a very effective combination for ensuring that water remains fresh and pure. The copper breaks down any bio-film present in the distribution pipework, allowing the silver ions to neutralize any trapped bacteria.
Silver is particularly effective in slow-flowing systems and water tanks which means that chemicals for biofilm removal are no longer necessary. Using the combined copper/silver system instead of chemicals is eco-friendly as the levels of ions are well below legal standards and have no effect on the environment. Another advantage is that no taste or smell is imparted to the water making it more palatable.
The equipment package was completed with a water softener which prevents scaling problems with hard water.
Flexible system for Dutch built superyacht
Last year, the third largest superyacht to be installed with HEM equipment was a 93 meter vessel built in Holland. The fresh water generation requirements are served by a desalinator capable of producing 75 tonnes of potable water per day. The flexibility of the system means, for example, that swimming pools and jacuzzis can be filled quickly during busy times.
The water then passes to an HEM freshwater treatment system, a compact unit which houses pre-filtration and an active charcoal filter. At the next stage, it goes through a two stage sterilizer incorporating silver ion and UV treatments. In addition, the vessel was supplied with a Pure RO unit to produce demineralized water for hull washdowns.
During 2019, HEM also supplied systems for four other superyachts with lengths between 80 and 90 meters, putting them in the 'top ten' for the year.
"We are delighted to have provided systems for these vessels. It's a market which demands quality and reliability, but there is also a growing awareness of environmental concerns, an area where we can offer greater sustainability by generating fresh water", Jaco Conradie concluded.