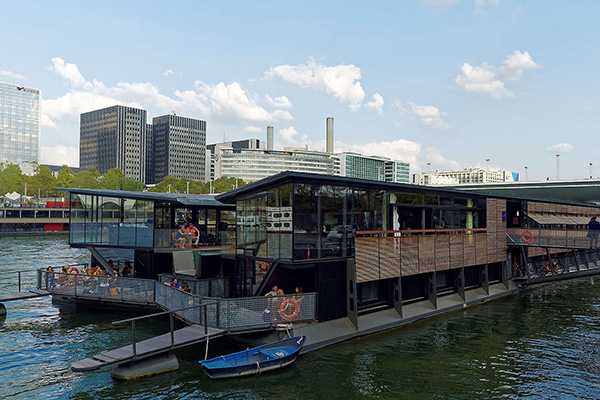 OFF Paris Seine: France's First Floating Hotel
Evac products equip France's first floating hotel.
The
OFF Paris Seine
, France's first floating hotel, located on the Seine river in Paris, opened June 23, 2016. The hotel has 58 rooms, including four suites, and it is equipped with the Evac vacuum collection systems including 68 vacuum toilets, 68 vacuum interface valves, four stainless-steel vacuum drain channels and two vacuum collection units. In addition, the structure employs Evac vacuum grease separator.
An unusual perspective on Paris
The construction, composed of 90 modules, was built in Dieppe and Metz, and assembled in Rouen, a city northwest of Paris on the Seine. The four-star hotel was then towed via the river to its permanent address in Paris, a journey of about 350 kilometers requiring approximately three days. In addition to its practicality, waterway transport helped reduce the carbon footprint of the project. Designed by Gérard Ronzatti of the architectural firm
Seine Design
, which specializes in floating structures, the hotel's refined and innovative concept revolves around water views. Suites are placed at the corners of the structure to allow water on two sides. And every hotel room features a river view, either of the Right Bank with its barges and urban lifestyle, or of the Left Bank and the historic Austerlitz station. Just as the Seine flows through the City of Lights, the river flows through the hotel's structure, the two hulls connected by an interior corridor, which also offers a river view. On the main deck, a plunge pool and a private marina complete the atmosphere.
Why Evac?
Floating buildings, like boats and ships, cannot be built too high. There is limited room for toilet slopes in such structures, and the use of vacuum systems helps save space. Evac vacuum systems for wastewater treatment "are lightweight and meet our ecological needs," explains the architect of the OFF Paris Seine, Gérard Ronzatti. Evac vacuum toilets require only 1.2 liters of water per flush, compared to six to seven liters required by a conventional toilet. "The Evac system is simple to install, and easy to understand and manage," he adds. "We chose Evac for the reliability of its products. We have been working with the company for 20 years now," says Ronzatti. The architect also praises Evac's team, led by Marine Sales Manager Dominique Gniazdowski. "The support received by Evac representatives during the building's conception and realization has been very important. It's definitely Evac's biggest advantage. It is paramount to be able to count on a whole team when building and testing."
Evac in short
Evac Group is the world's leading provider of integrated waste-, wastewater-, and water management systems for the marine, offshore, and building industries. The company has executed over 20,000 marine, 1,500 offshore and 2,000 building projects worldwide. Evac has employees in Brazil, China, Finland, France, Germany, Korea, Norway and the USA, and representatives in more than 40 countries. The company's turnover was 98 million euros in 2015. [caption id="attachment_4274" align="aligncenter" width="600"]
OFF Paris Seine floating hotel in Paris, France[/caption]